Shades of Magic Boxed Set: A Darker Shade of Magic, A Gathering of Shadows, A Conjuring of Light (Multiple copy pack)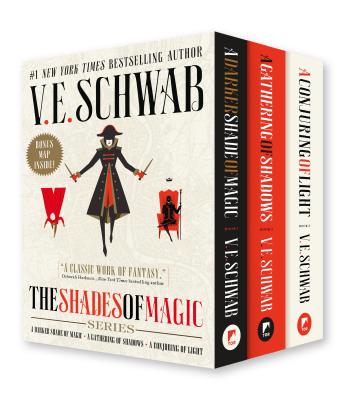 List Price: $53.97
Our Price: $45.87
(Save: $8.10 15%)
Other Books in Series
Description
---
Experience the fate of beloved heroes and notorious foes in V. E. Schwab's New York Times bestselling Shades of Magic trilogy together in a boxset with additional content

Bonus pull-out map included!

Kell is one of the last Antari—magicians with a rare, coveted ability to travel between parallel Londons; Red, Grey, White, and, once, Black. Unofficially, Kell is a smuggler, servicing people willing to pay for even the smallest glimpses of a world they'll never see. It's a defiant hobby with dangerous consequences.

A Darker Shade of Magic

Kell serves the Maresh Empire—Red London, as he calls it—as an official ambassador, traveling between the frequent bloody regime changes in White London and the court of George III in the dullest of Londons. After one such visit goes awry, Kell escapes his home for Grey London and runs into Delilah Bard, a cut-purse with lofty aspirations. Now perilous magic is afoot, and treachery lurks at every turn. To save all of the worlds, they'll first need to stay alive.

A Gathering of Shadows

While Red London is caught up in the pageantry and thrills of the Element Games, another London is coming back to life, and those who were thought to be forever gone have returned.

A Conjuring of Light

As darkness sweeps the Maresh Empire, the once precarious balance of power among the four Londons has reached its breaking point.
About the Author
---
VICTORIA "V. E." SCHWAB is the #1 New York Times bestselling author of more than twenty books, including the acclaimed Shades universe, the Villains series, the City of Ghosts series, Gallant and the international bestseller The Invisible Life of Addie LaRue. Her work has received critical acclaim, been translated into over two dozen languages, and optioned for television and film. First Kill – a YA vampire series based on Schwab's short story of the same name – is now a Netflix series. When not haunting Paris streets or trudging up English hillsides, she lives in Edinburgh, Scotland, and is usually tucked in the corner of a coffee shop, dreaming up monsters.
Praise For…
---
Praise for Shades of Magic Trilogy

"Addictive and immersive, this series is a must-read." —Entertainment Weekly, Grade A, on A Gathering of Shadows

"A classic work of fantasy." —Deborah Harkness, New York Times bestselling author of the All Souls trilogy

"Compulsively readable." —NPR on A Darker Shade of Magic

"Feels like a priceless object, brought from another, better world of fantasy books." —io9 on A Darker Shade of Magic

"Inventive fantasy... for Neil Gaiman fans." —The Guardian on A Darker Shade of Magic

"A Conjuring of Light is everything I wanted, desired, dreamed of–and then some." —The Booksmugglers

"Impossible to put down." —Kirkus Reviews on A Gathering of Shadows

"This is how fantasy should be done." —Publishers Weekly, starred review, on A Gathering of Shadows

"Full of magic, intrigue, adventure, deception, a bit of piracy...this will engage both adult and young adult fantasy readers alike." —Booklist on A Darker Shade of Magic

"Flawless prose...the bittersweet conclusion is a fitting one for a fantastic, emotionally rich series that redefines epic." —Publishers Weekly on A Conjuring of Light

"If you haven't picked up the Shades of Magic series before, do so. A Darker Shade of Magic is good; A Gathering of Shadows is better; A Conjuring of Light blows them both away." —Culturess on A Conjuring of Light